This is the story of three brothers who fought in the Great War. Between them, they experienced all that the war could throw at them. They fought in different countries; as soldiers and cavalrymen, they experienced promotion, discharge and injury. Two of them were to make the ultimate sacrifice.
Sidney, Arthur and Herbert Cullip are my third cousins, twice removed. The son of a baker, George William Cullip and his wife, Fanny (nee Bradburn), their youth was spent in varying parts of south west London. Having been born in the last decade of the 19th century, they were all prime candidates to have served at some time or another during the Great War, and I could not believe my eyes to discover that all three of their service or pension records had survived.
Sidney George was the eldest son, born 1892 in Putney. He spent his early years learning his ABCs at school before working alongside his father as a journeyman baker. When the call to war came in 1914 he didn't join up immediately. As the eldest, and a mainstay of the family business, I wonder whether his father refused to let him go and kept him by his side for as long as he could. It may be that he was as enthusiastic to enlist as his two brothers who were gagging at the bit to join up.
When conscription was introduced in January 1916, Sidney took the oath at Richmond, Surrey and became a private in the 16th Battalion, Royal Fusiliers. His service record is difficult to make out, but it is clear that in June 1916 he was transferred to the 8th Battalion, Royal Welsh Fusiliers. He saw action in the hot, dusty climes of Mesopotamia, and probably took part in the push to take Baghdad from the Ottoman Turkish forces in the first months of 1917. On 15 February 1917, in all likelihood during the capture of Dahra Bend, an Ottoman position that the British Army took during its march on Baghdad, Sidney received wounds that he was to succumb to the following day. He is buried in the Amara War Cemetery in Amara, Iraq.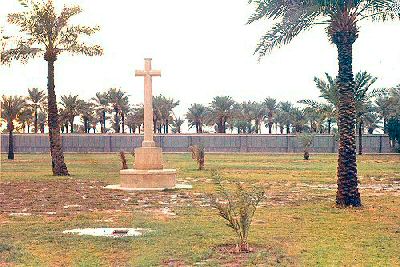 Amara War Cemetary (photo courtesy http://www.greatwarci.net)
Arthur Charles was four years younger than Sidney. He was 18 when war was declared on 4th August 1914. Five days later, full of patriotic fervour, Arthur had enlisted. He was posted to the 7th Reserve Cavalry Regiment which was responsible for training men for the 21st Lancers. Arthur had become a 'Lancer of the Line', a cavalryman. He saw no action for the first two years, staying on home soil. In March 2016 he requested a transfer under para 333 (iv) of the King's Regulations. This enabled him to move to the regiment where his older brother, Sidney, was serving. They were only together for a short time as Sidney was soon on the move to the Royal Welsh Fusiliers and Mesopotamia. Sadly, the three short months between March and June was the last time that the two brothers were together.
Signing up for war (photo courtesy IWM)
Arthur stayed with the 16th Battalion, Royal Fusiliers until July when he was posted to the 32nd Battalion, Royal Fusiliers. In August he was dispatched to France where he saw his first action. Unfortunately, in October, he received a gunshot wound to the neck and right shoulder so was shipped back to hospital in Blighty. Within six months he was back in France, but in June 1917 he was shot again, this time in the left cheek. Once more, it was back to the UK for treatment, before returning to France in January 1918.
During his time at home and in France, he was steadily being promoted through the ranks until by March 1918 he had attained the rank of Sergeant. In October, just weeks before the armistice, Arthur was wounded again, this time with a shrapnel wound to the shoulder. But two gunshot wounds and shrapnel wasn't enough to put Arthur out of action for good. He served out his time, finally being discharged in April 1919. A year later he was married to Louisa, and they were have to have one son together. In 1952, in their mid 50s, Arthur and Louisa embarked on a journey to the other side of the world when they emigrated to South Australia. Sadly Arthur died in 1956, having only enjoyed four years of his new life.
The youngest son, Herbert James, was a mere stripling when war broke out. He was just 15. But this didn't stop him from enlisting at the earliest possible opportunity. In July 1915, at the age of 16, he signed up with the Royal Regiment of Artillery. He was under age so told the recruiting office that he was 19 years and three months old. The lie went undiscovered until the following March when he was discharged under Para 392 VI (a) of the Kings Regulations. Herbert's career as a soldier was over. But only temporarily...
A battery in the Royal Field Artillery
He must have re-enlisted when reaching the age of 18 because it's as a Gunner in the Royal Field Artillery that Herbert lost his life. He was killed in action on 4 August 1918 whilst serving with 'H' Battery, 38th Brigade. He was initially buried in Abeelz French Military Cemetery, however in 1924 his body was disinterred and reburied in Cabaret-Rouge Cemetery in the Pas de Calais. This was part of a programme to 'concentrate' burials from a range of smaller burial grounds into a larger focused area. For his mother Fanny, who had lost two sons in the conflict, this must have been a time of reopened wounds. She requested that his grave be marked with a simple statement: 'Until the Day Break'...
'Until the day break, and the shadows flee away, turn, my beloved, and be thou like a roe or a young hart upon the rugged mountains'.
(Song of Solomon 2:17)